When we planned a camping trip to June Lake with the family to kick off our camping season, we never predicted that we would have to endure cold temperatures, rain, and about 2-3 inches of snow. I know that we were at 7000′ feet elevation, but this is still the end of May. Guess it was meant to be one of those challenging weekends.
My in-laws offered to watch Bailey Saturday morning so that Erin and I could get in a few hours of fishing. Saturday dawned cloudy, wet and cold. We suited up and headed out to Hot Creek which was just under 20 miles from our campground. I fully expected that it would be shoulder-to-shoulder since it WAS Memorial weekend AND this was the FAMOUS Hot Creek. Upon arrival, there were a few cars at the first parking area, so I headed to the second parking area and we were the only car at that lot. I was still in shock at the lack of crowds.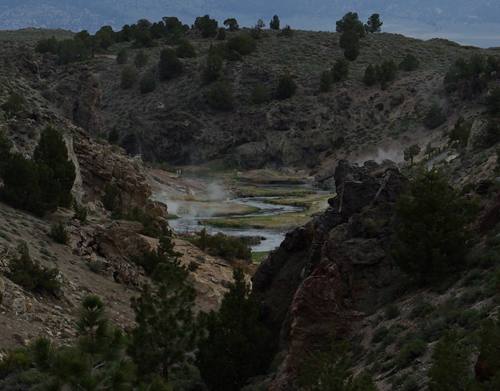 We hiked down the steep trail to the river and commenced to fish with minimal crowds. The stretch pictured below had two other fishermen. I have fished this section in times past with 20+ other people, so this is EMPTY water.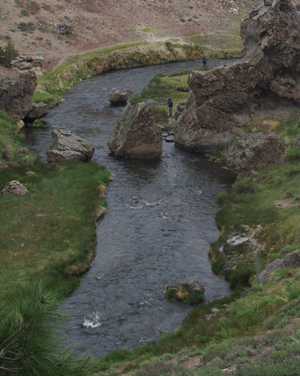 It snowed and rained intermittently the entire time we were on the water. The morning started off slow for me, but about 30 minutes into the morning, I got a solid grab. I could not set the hook quick enough, so the fish shook off.
This pattern proceed to plague me for the following few hours. When it was all said and done I was 0 for 5 and Erin was 1 for 2. Erin's second fish, the one she lost, was a monster – and that is a funny story of loss, in and of itself. It was a classic case of husband-wife miscommunication. I *thought* I told her to tippet down to no less than 5X. She swears that she asked me if 6X was fine. I must have not heard and just gave a stock husband answer of "yes dear" as that is what she was using the entire day. Now, do not get me wrong. You can be quite successful with 6X on Hot Creek as the average fish in only about 12″. But the creek is known to harbor some MONSTERS. And that is what happened. Erin hooked an 18″ brown who knew that to get off you run downstream to the fast water. Erin put up a decent fight for about three minutes, then the fish broke off.
At this point it was time to head out. We both noticed that it seemed the river was really turning on at that point as people around us seem to be hooking up with some regularity. Funny how the fishing always seems to get good when you have to leave.
Now for some tackle specifics – I was using my Sage 8′ 4-wt SLT and was dead drifting a double nymph rig under an indicator. Erin was using her Sage 7'6″ 3-wt SLT and was swinging a double nymph rig wet-fly style. I am going to guess that most of my strikes were on the #20 flashback PT as the timing between the strike indicator movement and my sets were always indicative of a less than tight line. Erin's hookups were both on a #18 PT as well.
I hope to get back for another round or two before it gets too hot and weedy.